Overview of Olive Tree's BibleReader 5.0 App for iPad, iPhone
In an effort to pro­mote some out­stand­ing mobile Bible soft­ware, I would love to post a whole series of videos that demon­strate capa­bil­i­ties of Olive Tree's BibleReader app. This is a kick off post towards that effort; we'll see if time per­mits for oth­ers to fol­low — I have sev­eral ideas for more advanced tutorials.
To call BibleReader an "app" might be a bit mis­lead­ing. It has such pow­er­ful and com­plex fea­tures, call­ing it "soft­ware" seems a bit more appro­pri­ate. Despite it's com­plex­ity, it's very intu­itive to use as demon­strated by the video. After view­ing the video, be sure to take a look at the com­pan­ion remarks that follow.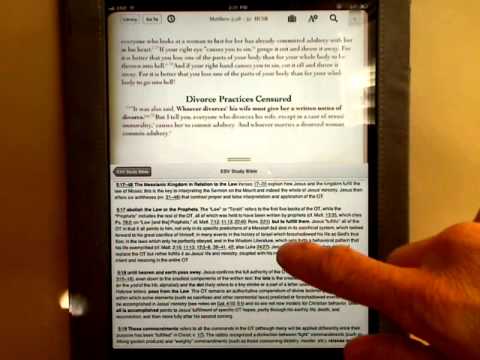 If you've ever given a speech, you may have found your­self review­ing your thoughts after­ward. If so, inevitably, you will find your­self say­ing: "Man, I really wish I had done that dif­fer­ently!" Like­wise, in the video above, I wish I had done a few things dif­fer­ently. How­ever, hav­ing no notes and speak­ing impromptu … the video serves it's pur­pose. It demon­strates the over­all capa­bil­i­ties of the software.
Here are a few things were not men­tioned, or should have been explained a lit­tle better:
The gen­eral dis­play can be highly cus­tomized — far more than any other mobile Bible app to date.
Not only can cus­tom fonts be cho­sen, but dif­fer­ent col­ors can be assigned to dif­fer­ent parts of a window's dis­play:(text, back­ground, words of Christ text, verse num­bers, publisher's cross-reference let­ters, etc …) Although these images are prior to BibleReader ver­sion 5.0, they demon­strate color schemes that can be repro­duced in BibleReader 5.0.((Currently in

BR

5.0, the pop up window's default back­ground can not be changed as it could in ver­sion 4.x. We are hop­ing this will change in the future.)) This one is a screen shot from

BR

 5.0.
I never men­tioned this soft­ware has Bibles in many dif­fer­ent lan­guages; not to men­tion the rich ancient Hebrew and Greek parsed text and mor­phol­ogy tools.
Please see Dr Stephen Cook's arti­cle high­light­ing this capability.
I should have intro­duced anno­ta­tions ( notes, high­lights, and book­marks) where they are nor­mally used and cre­ated — in the text.
In the video, I first men­tioned them in rela­tion to the "my stuff," suit case icon. This is really a place to nav­i­gate them col­lec­tively accord­ing to optional orga­ni­za­tion fea­tures (fold­ers and tags).
When cre­at­ing a note, typ­ing any Bible verse ref­er­ence, such as Mat 5:3, will become a hyper­link.
When read­ing your note, tap­ing the hyper­link will open a pop up win­dow at that loca­tion, using the last opened Bible translation.
---
Other Note­wor­thy Reviews:
---