Well, I've been bitten by the Chess bug all over again.  I blame this on three things:
Justin, my son, has surpassed me, he can destroy me easily; this has pushed my development
The Chess.com iOS app (too many nice things to mention here … but here's a post dedicated to that app)
I've started attending weekly chess club meeting in my hometown.
So, I decided to upgrade my current chess set. It's a fairly nice set, but the white king suffers a broken crown; it's very well made, handsome even. But, nothing particular about it screams fancy.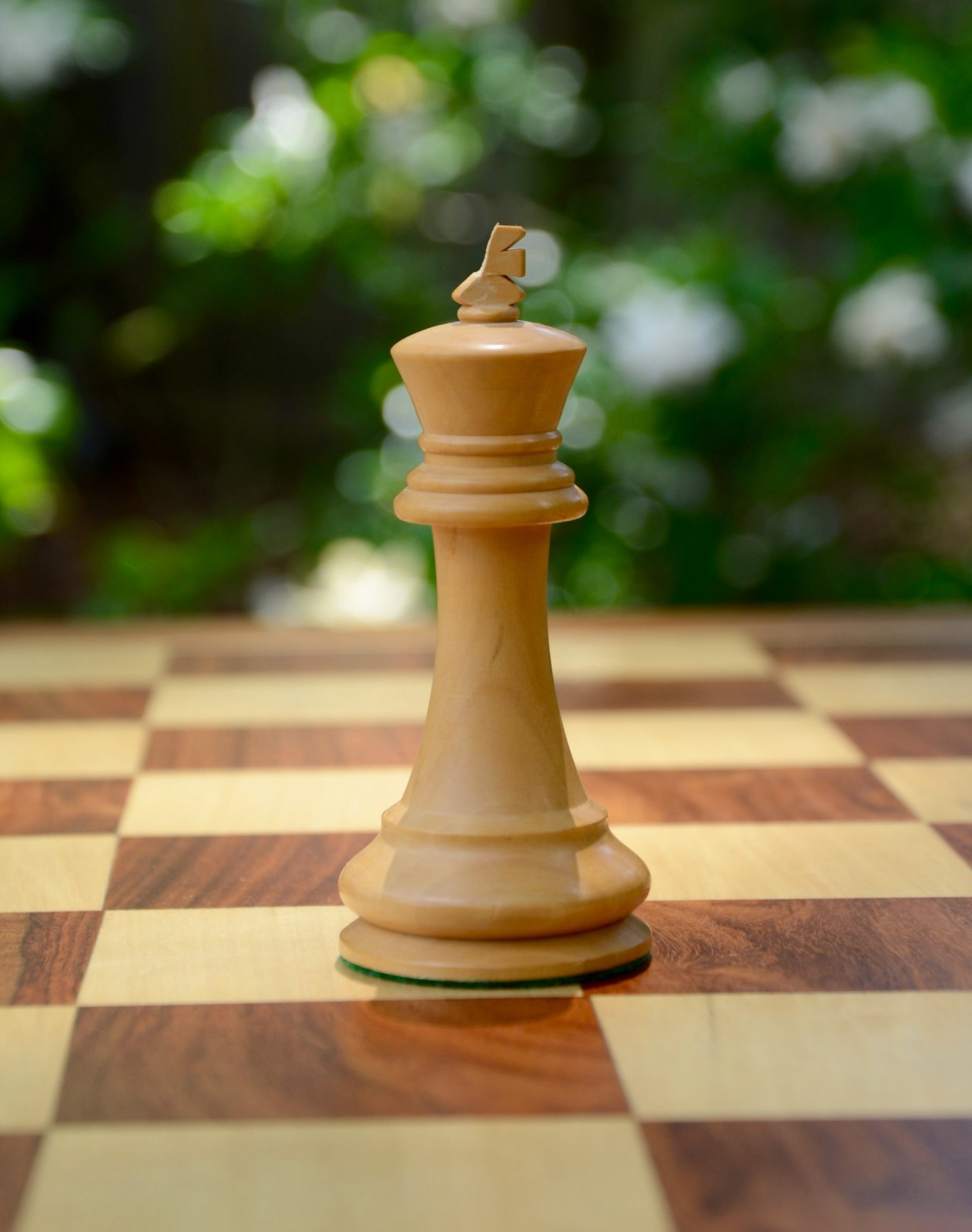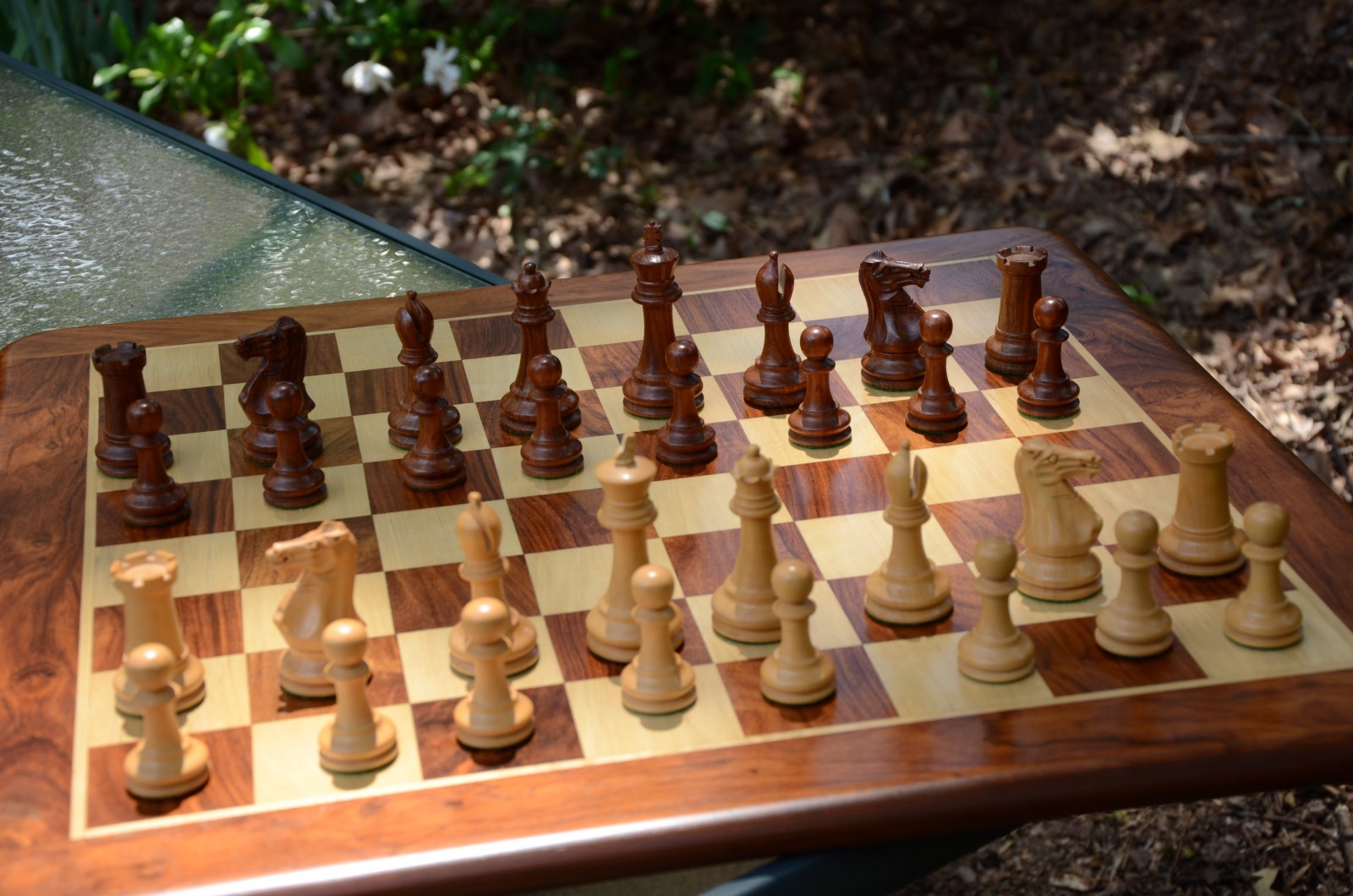 Below is a log of my search for a luxury chess set to replace my current set, shown above.
My experience is divided into different sections – read the sections of interest to you.  The final section is a review of the ChessBazzar Arabian Knight Series set I purchased.  Sellers may want to read all sections, as I recorded in detail how this story unfolded.
Shopping – Where to Buy
Here's some personal thoughts that were flying around my head while looking for chess sets on the internet.
Where to buy, where to buy, where to buy??? … quick look on eBay …  Oh my, chess prices have risen since obtaining my first set on eBay back in 2004! I bought my 4.0″ classic rosewood/boxwood Staunton set right at $78.00 (if memory serves me right).  I bought my matching board, same wood, 2.5″ squares, with a nice  boarder and very round corners, separately for $120 or so.  Those prices are not available anymore!  Chess prices have risen!

If I am going to upgrade from my existing set – I want something patterned after a traditional Staunton style … but artistic enough to breathe a breath of fresh air back into game play!

Most House of Staunton sets look rather plain … unless you start looking at item greater than $975.   Hummm …

ChessBazaar has some nice sets … wait, they're located in India!  Bummer.  I'd be leary about ordering from India … might get ripped off … hummmm … 
Those were my initial thoughts.  I browsed several sites,  House of Chess, Chess USA, Chess Warehouse, eBay,  etc etc etc … I kept coming back to ChessBazaar for the nice unique selections displayed there. Eventually I decided to check them out – just to make sure they were not a scam site. This was the first step towards deciding to order from them. My initial checks were satisfied.  Now, I was convinced that I would probably be purchasing something from their site in the near future.
Which set to Buy
I was convinced I wanted a wood set, something akin to the classic Staunton design – but something luxury, something a bit unique, without going wild. There were several sets where this piece looked fantastic – but that piece ruined the set for my tastes!  (I didn't like pawns with even the slightest hint of a point on top – resembles a bishop too much; or a bishop that is more rounded at the top, or double split at the top; or pieces that look like they have a helmet style; or pieces that have a double "collar" – yeah, I'm pretty picky!)  My wife even stated looking at sets with me; and she certainly had her favorites. (We discovered our tastes were different!).
Knights are the showcase piece of any set, aren't they?  It's the only piece that is not lathed and has to be hand carved!  I liked the design of several knights in sets at ChessBazaar. Examples of some of my personal favorites: the Indian Chetak II,  the Sher-E-Punjab,  California Chrome, Dragon Knight, Pegasus, and others. Eventually, I decided on the Arabian Knight Series – not only are the Knights stunning,but the design of all other pieces agree with my taste. I especially like the 3D crown atop the king; the knight is exquisite, and I've never had a castle that flared open at the top  –  very unique looking! (If you are more familiar with House of Staunton, this set is similar to the Ercolando design.)
It's settled; that's the set.  I ordered it.
Shipping – A FAST Experience!
There is a short story and a long story to this section.  But, the short story is that shipping was a very pleasant surprise – it arrived at my doorstep just 37 hours after the package was received my FedEx!
Although I ordered it on Saturday, shipments did not go out until Monday; my package was further delayed as ChessBazaar sent an email wanting clarification instructions about my order.  They noticed the storage box I ordered would not accommodate the size of this chess set. By the time I noticed and answered the email, Monday's FedEx cutoff time had come and gone. But ordering on Saturday, and receiving Wen morning was still fast!
Time-wise details: the item was picked up by the local India FedEx center at 8:03 pm (local time) Monday, 5/16.  It was delivered to my door at 8:51 am Wen morning, 5/18. Although shipping dates spans parts of three days, the shipping time took less than 48 hours – 37 hours to be exact. That's pretty impressive!
I normally track expensive shipments such as this. Tracking was fun. I even used Flight Aware to track FedEx Flight:  FDX 7 once the package made it to Somma Lombardo, Italy.  That was the only FedEx flight leaving that city to the USA, and it's destination was Memphis, TN.  According to Flight Aware, the flight was due to arrive in Memphis at 1103 pm. It actually landed 1115 pm; at 1122, FedEx reported the package had arrived in Memphis TN. It departed Memphis at 0324 am, arrived in Richland, MS at 7:48 am, and was delivered at 0851 am. 🙂
On to the Review …
Review – The Arabian Knight Series
(Don't like reading? You may want to just skip to the YouTube video at the bottom.)
What do you do when you're anticipating an exciting shipment to arrive ?  Well, if you're like me – you read everything you can about it. And that's what I did.  I found some threads on the Chess.com forums about substandard hand carved knights from ChessBazaar – I became worried. Would I have knights that were different from the advertised images? Haunting thought!
Waiting anxiously … Reading more articles … I also found many ChessBazaar patrons who were ecstatic with their purchases in the Chess.com forums.  I'm hoping to be in this category.
It arrives !
Opening the set … Very relieved – the pieces looked exactly like the images on the ChessBazaar website – and those knights are STUNNING !  This is such an awesome chess set …
Click any on any image above to see the full-size version.
Then I picked up a white pawn.  OUCH !!!!   First thoughts: "
Man, this is light !??!!?!"  
Heartache!  This set
is weighted
, but, barely.  Based on what I'm used to – this set was much lighter.  My other set has smaller pawns, but they're much heavier than these pawns.
Well … what do you do at this point?
I kept admiring the beauty of the set.  Then I lifted pawns from my previous set, and … lifted the pawns from this new set. There was no getting around it – this new set was lighter.  I was mentally fighting to accept these lighter pieces – because … this new set was stunning in beauty! Now, to be fair, other pieces were fine … primarily it was the pawns that seemed to be light.
Okay, while we're noticing negatives … I should mention this:  I have one black knight that has non-level eyes.  How do you notice this? Well,  you look at the knight at eye-level,  with the front of it's head facing directly at you,  and you have to be looking for that sort of thing – kind of like a barber not cutting both your sideburns level.  It would never really be noticed – especially from a top-down chess-playing viewpoint. So, it really does not bother at all – if anything, it shows that these pieces really are hand carved.  The remaining three knights are perfectly symmetrical!  Even this one is gorgeous!  But I needed to mention this – it's there.  I rate this as a 1 out of 10 in terms of importance to me.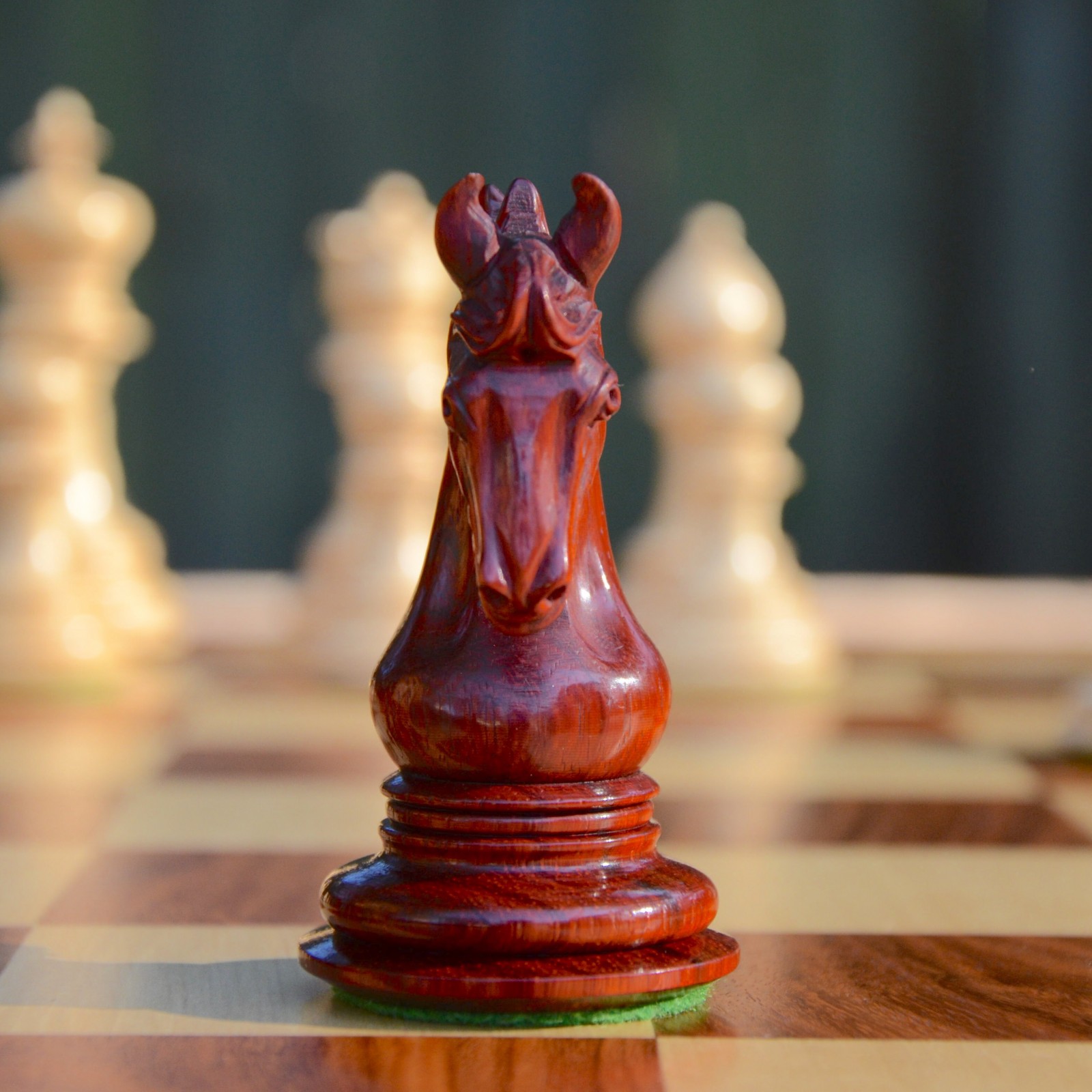 And yet one more flaw … One of the white knights has a minor issue. The seam where the lathed base meets the "hand-carved" part of the knight has a very small gap that extends about 20 degrees of that circle.  Again, probably not even noticeable during game play unless you picked the knight up and examined it thoroughly.  I would rate this as a 5 out of a scale of 10 in terms of importance. But I believe I can fix this with no problem, perhaps a smidgen amount of wood filler.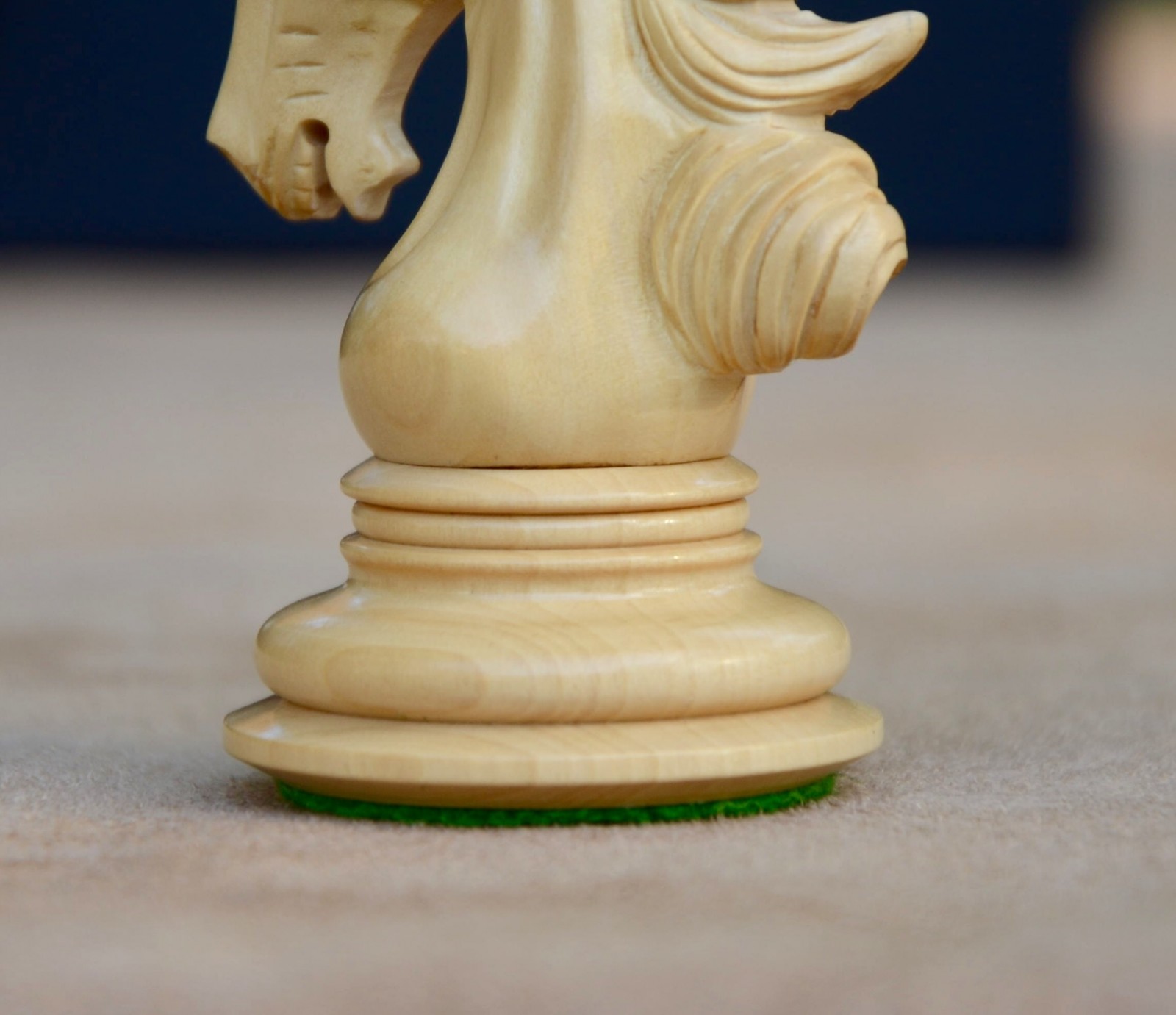 But back to this weight issue … this is like a 9 out of 10 on that concern scale.  (10 being highly dissatisfied )!
[ Update:  Later, after getting some gram scales, I would discovered it was really only a few of the white pawns that were light.  Ironically, those were the very pieces I was making the comparison – they were the first pieces I picked up.  ChessBazaar is going to swap out these light pawns for heavy ones.]
Day Two:
Finally got the opportunity to do weight measurements.
Weights:
Light King:   78 grams
Dark  King:   84 grams    
Light Queens:  68 grams, 72 grams
Dark  Queens:  74 grams, 76 grams
Light Bishops:  56 grams,  58 grams
Dark  Bishops:  58 grams,  62 grams
Light Knights:  64 grams,  64 grams
Dark  Knights:  68 grams,  70 grams
Light Castles:   56 grams,  58 grams
Dark  Castles:   58 grams,  58 grams
Light Pawns:  28g, 32g, 34g, 34g, 34g, 36g, 36g,  38g   (combined white pwns: 286 grams)
Dark  Pawns:  36g, 38g, 38g, 38g, 38g, 40g, 40g, 40g  (combined dark  pwns:  318 grams)
All Light Pieces Weighed Together:  872 grams
All Dark  Pieces Weighed Together:  936 grams
Total Weight – All Pieces:   1808 grams.  
ChessBazaar advertised this set as 1900 grams with a possible error of 10% due to weighing pieces individually.  The actual weight of this set is 4.8% less than the advertised weights – so within the margin of error that they advertised – but definitely on the LOW side.
ChessBazaar Review – Going the Extra Mile
ChessBazaar is going to replace my light pawns (there were five) with heavy ones. So, more to come, but I'm very pleased with this stunning set.
Another positive – forgot to mention this one earlier.  Turns out that I ordered during a promotion where orders over a certain amount get a free bonus chess set.  I wasn't worried about that, and I think I was right at the cutoff anyway, but that set was also received – and it turns out to be a very nice 3.75″ set.  Solid wood, and makes a very nice travel set.  Have a look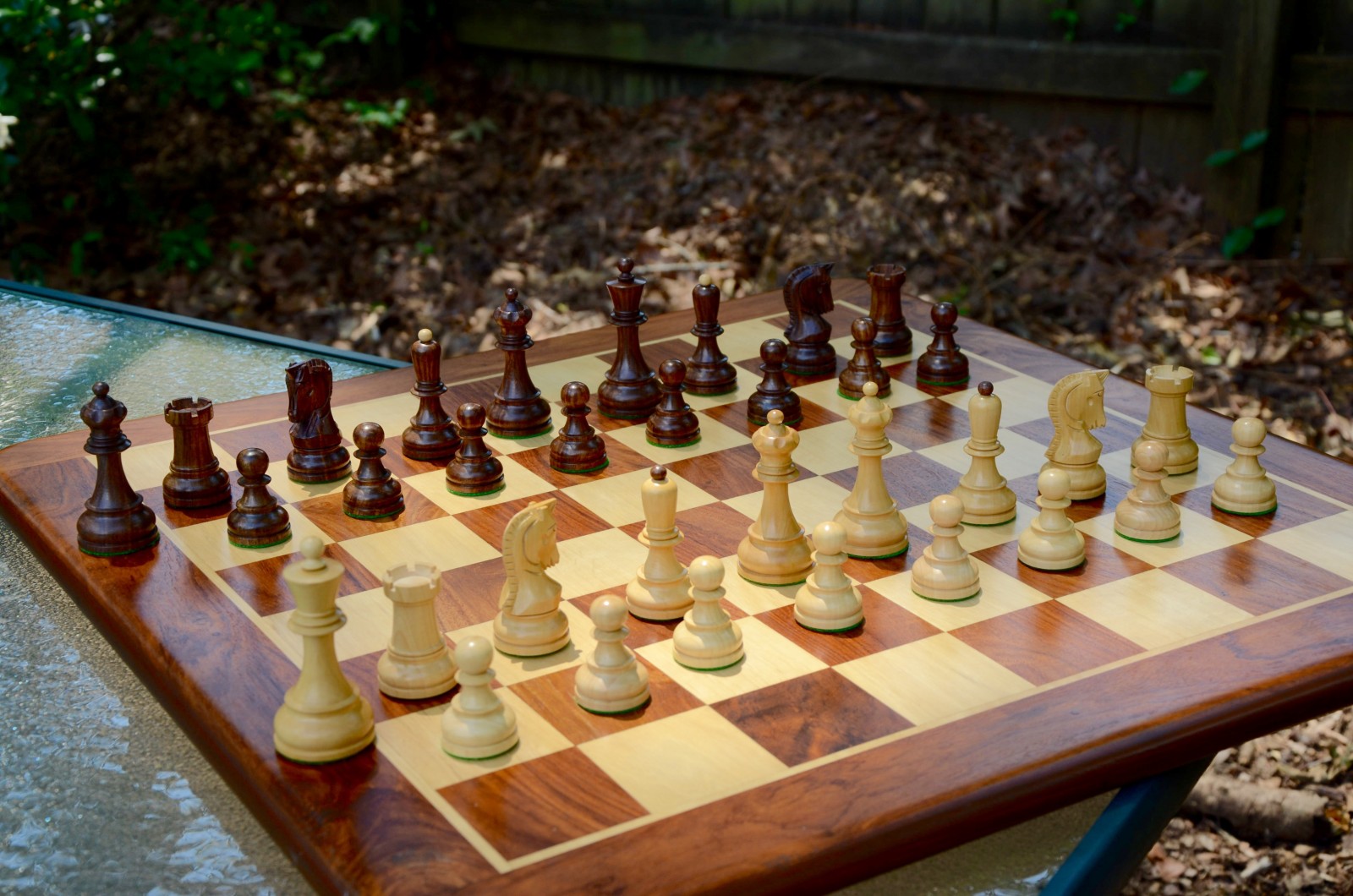 Two Weeks In – I've Learned My Set Suffers from Padauk Oxidation
It did take a while to notice – but every week or so, I'm seeing a continuous white powdery buildup (a residue or oxidation layer) on eight particular Padauk piecess. If left alone, these pieces are horrible looking. To restore these pieces to their original shiny finish, I must polish them with a microfiber cloth. It's not really all that hard – but it's a pain to have to shine them up continuously! My problem pieces includes the King, both Queens, both Knights and three of pawns. (All the other pieces are fine). I have dedicated an entire article to my experience with this issue where my battle with Padauk Oxidation – and my solution is described.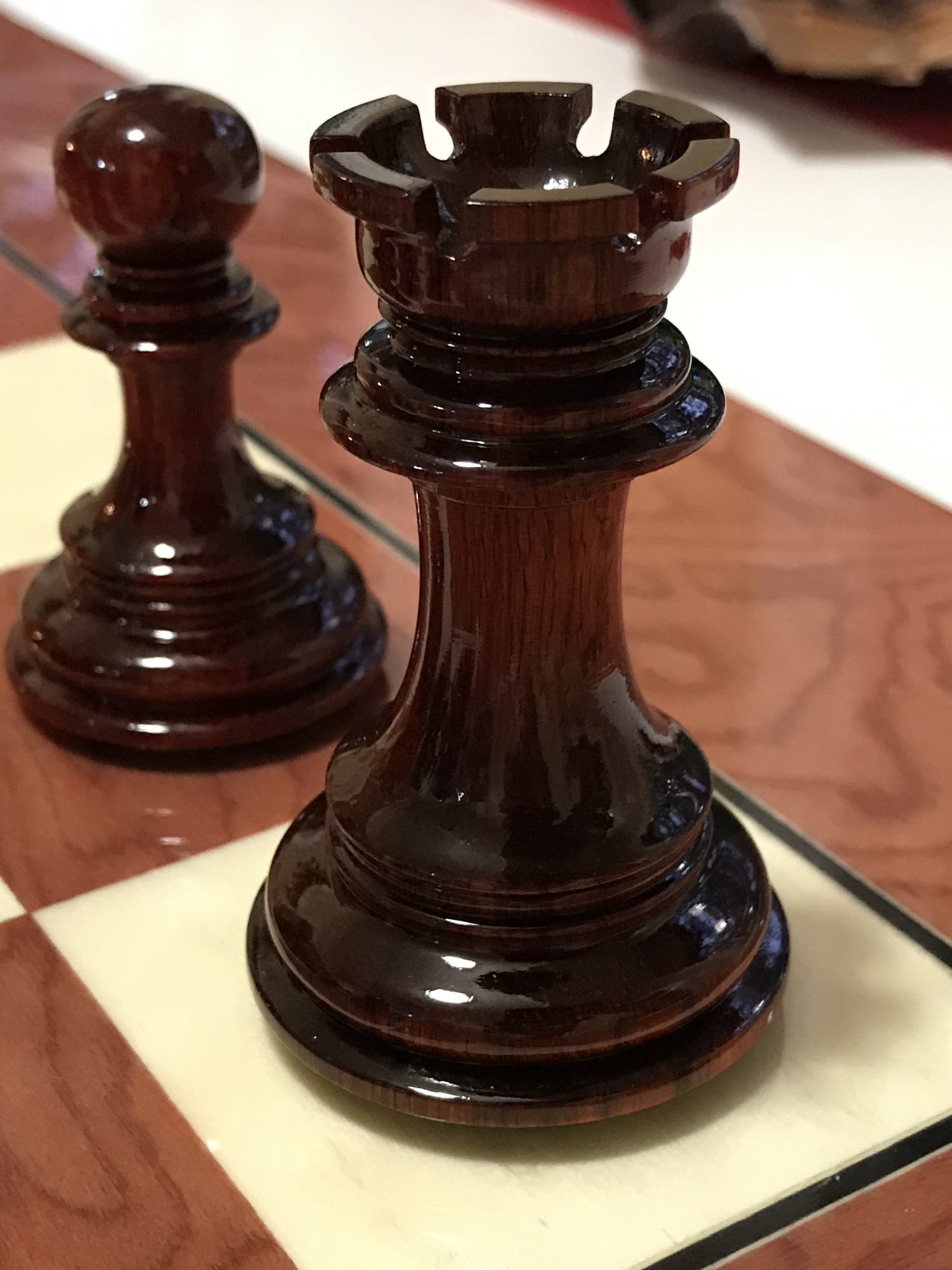 Summary
I am very pleased with this set; it's absolutely gorgeous. The YouTube video shows the final state of the set after being lacquered in order to fix the residue issue. It's super glossy and I love it. Concerning the lighter-than-expected weight issue – I have learned that this was due to newer regulations that disallow lead to be used in imported items labeled as toys. Chess pieces are classified as toys as they are game pieces. My earlier set, produced back in the 1990's, used lead. Now that I am not continuously picking up my old pieces – I am not mentally comparing heavy to light pieces – it turns out that it's not that big of a deal now. If you have made it this far, do be sure to check out the YouTube video below, and view it in HD resolution. Leave any comments you wish, I enjoy reading them.
Update: Here's my YouTube Video